Update: Winter Weather Keeping Many In The Dark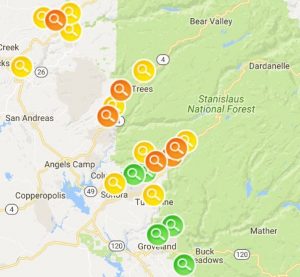 PG&E Mother Lode Power Outages

View Photos
Update at 2:15 p.m.: PG&E has pushed back the repair time for a majority of the  over 1400 Arnold customers without lights from 2 to 4 p.m. today. (Please see below for all the outages in the Mother Lode)
Update at 1 p.m.: PG&E reports the bulk of the outages, over 1400 in the Arnold area, should be repaired by 2 p.m. Additionally, for nearly 400 customers in the Long Barn area the company reports an estimate repair time of after 6 p.m. (Please see below for all the outages in the Mother Lode)
Update at 12:45 p.m.:  An outage in the Avery area has grown to over 800 PG&E customers without electricity bringing the total across the Mother Lode without power to nearly 10,000. That also ups the amount of those without lights in Calaveras County to more than 6,300. (Please see below for all the outages in the Mother Lode)
Update at 10 a.m.:  The wet weather continues to wreak havoc in the Mother Lode with nearly 9,000 PG&E customers in the dark as a result of trees bringing down power lines.
In Calaveras County, more than 5,500 PG&E customer stretching from the Avery area along Highway 4 through the Camp Connell area are without electricity, some since last night. Additionally, there are about 60 customers in the Glencoe area on Ridge Road near Railroad Flat Road without power.
In Toulumne County, nearly 3,500 customers spaning from Soulsbyville to Yankee Hill and Phoenix Lake-Cedar Ridge along Highway 108 up to the Strawberry area are without lights. Additionally, that number includes outages in the Groveland area off Highway 120 along Ferretti Road. Another outage stretches from Incense Cedar Trail to Stout Lane. The latter has a restoration time of 3 p.m.
The company has not released an estimate time of repair for the rest of the outages.
Click here for details on hazardous driving conditions on Highway 4.
Original post at 5:50 a.m.: The wet weather continues to cause power outages impacting thousands of customers in the Mother Lode.
In Calaveras County, nearly 1800 PG&E customers stretching from Avery to Camp Connell are without electricity since last night. Crews are on four separate outages, two involving trees in contact with electrical equipment. The company has given no estimate time of repair for these outages.
In Tuolumne County, more than 200 PG&E customers in the Groveland and Buck Meadows areas along Highway 120 and Buck Meadow Road and stretching from Incense Cedar Trail to Stout Lane are without lights.
Another 153 customers' electricity went out in the Pinecrest area of the Stanislaus National Forest near Beardsley Lake along Highway 108.
92 customers are in the dark in the Confidence area spanning from Highway 108 from Davis Flat Road to Sunrise Drive.
All have been without power since around midnight with crews on the scenes investigating a cause.