Storm-related Closures Continue Around The Mother Lode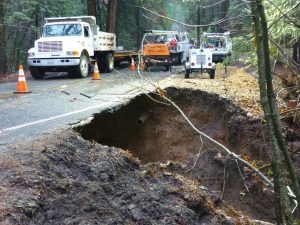 Kewin Mill Road Damage

View Photos
Sonora, CA — As this week's extraordinary stretch of weather continues to drench the Mother Lode, more reports are flowing in on storm-related closures and other related issues.
Calaveras County spokesperson Sharon Torrence reports that, due to culvert failures, Blagen Road in Arnold and Calaveritas Road at Mountain Ranch Road have closed. Due to high water at Murphys Creek, Algiers Street closed Tuesday from Main Street to the park — and from Scott Street to the Black Bart Playhouse parking lot.
Tuolumne County Closures 
Leaks that sprung up within the Tuolumne City branch of the Tuolumne County Library, according to librarian Lynn McCormick, have necessitated the closure of the building while major repairs are made. "That means no Story Time on Friday," she laments. She adds that she anticipates that branch operations should hopefully resume Tuesday, Jan. 17.
As earlier reported here, in the Cedar Ridge area, a TUD broken waterline failure relating to the washout of a culvert and road a portion of Kewin Mill Road near Hillside Drive has caused that area to be mostly closed to traffic. At last check, the roadway was being opened for local traffic at the top of every other hour for 15 minutes during the even (so not during the odd) hours.
Too, as Woods Creek is over the footbridge at Dragoon Gulch, access to the park from Alpine Lane is closed but it can be made by using Bonanza Road.
We also reported earlier today that according to the CHP, Marshes Flat Road near Moccasin was closed "indefinitely" due to flooding. The roadway was washed out near the area of Kelly Grade.