Update: Storm Damages TUD Infrastructure On Kewin Mill Road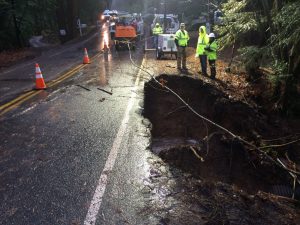 Damage To Kewin Mill Road

View Photos
Update at 9:20am: We have new information about a hazardous situation along Kewin Mill Road in the Cedar Ridge area.
Tuolumne Utilities District General Manager Tom Haglund reports that a culvert, and portion of Kewin Mill Road, was washed out near Hillside Drive at around 2:15am. "The washout caused a T.U.D. waterline serving the Cedar Ridge area to separate. T.U.D. crews are out there right now re-establishing a temporary water line. We anticipate the water service will be re-instated by the end of the day, conditions permitting."
In order to allow crews to get the work done as soon as possible, T.U.D. reports that Kewin Mill Road will only be open, near Hillside Drive, at the top of even hours. Specifically, it will be open from 10 – 10:15, 12 – 12:15, 2 – 2:15, 4 – 4:15, until the work is finished.
Update at 8:35am: T.U.D. reports that 15 customers are without water service. The customers are along portions of Kewin Mill Road, Hillside Drive and a small segment of No. Oxbow Lane. There is currently no estimated restoration time. Kewin Mill Road remains closed, near Hillside Drive, while the repairs are being made.
Original story posted at 6:15am: Cedar Ridge, CA — Travel with caution this morning as there are many slick roads, downed tree branches and areas of street flooding in the Mother Lode.
One very hard hit area is Kewin Mill Road in the Cedar Ridge area. TUD reports that a section of Kewin Mill Road has been damaged as a creek overflowed at around 2:15am. In doing so, it damaged 18 ft. of mainline water pipe. Extensive repairs will need to be done, and it is impacting what is believed to be around 200 TUD customers. Kewin Mill Road is closed at Hillside Drive this morning. At the top of the hour, beginning during the eight o'clock hour, the road will be open for 15 minutes so that vehicles can pass through. We'll pass along more information about the situation as it becomes available.
A special thanks to community news partner Jim Krussow for sending in the photos of Kewin Mill Road. News related pictures can be sent to news@clarkebroadcasting.com.
There are also some school related announcements related to the weather. Click here for more information.