Update: Sand Readily Available To Prevent Flooding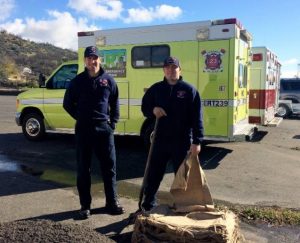 Sandbags Available in Copperopolis

View Photos
Update at 2:30pm: Sandbags are available at some additional locations in anticipation of heavy rainfall this weekend. A self-service sandbag area is set up behind the Copperopolis Fire Station at 370 Main Street. You can stop by any hour of the day or night, according to the Copperopolis Fire Protection District.
In addition, City of Angels Camp residents are welcome to fill sand bags behind the Police Department building at 200 Monte Verde Street. There will be signs on the road directing you to the fill station.
These new locations are in addition to the locations referenced below.
Original story: In anticipation of continuing wet weather, sand is readily available in Tuolumne and Calaveras counties to prevent flooding.
The current weather system is expected to continue in the Mother Lode through tomorrow, with a break anticipated on Friday. Then a second, very powerful, storm system should arrive on Saturday and continue through early next week. Click here for more information.
In Calaveras County you can pick up sand bags at the following locations:
Arnold Maintenance Yard, 1119 Linebaugh Rd. (Closes at 3:30pm)
Glencoe Maintenance Yard, 16151 Hwy 26 (Closes at 3:30pm)
Jenny Lind Yard 11558 Milton Rd. (Closes at 3:30pm)
Mountain Ranch Community Park, Washington St.
Murphys Fire Station, 37 Jones St.
Vista Del Lago Cul-de-sac near DuHamel Family Dentistry, 313 Vista Del Lago
San Andreas Rd Yard, 891 Mt Ranch Rd. (Closes at 3:30pm)
Mangili Rd. Cul-de-sac at Valley Springs Sports and Fitness, 145 Mangili Rd.
In Tuolumne County you can pick up sand at the following locations (you need to provide you own bag and shovel):
Columbia Airport, 10723 Airport Road
Big Oak Flat, 11240 Wards Ferry Road
Tuolumne Yard, 18870 Birch Street
Jamestown Road Yard,  18188 7th Avenue
Tuolumne City Fire – 18690 Main St, Tuolumne
Sandbags can be found at these stores:
Sonora:
Lowe's (full bags only)
Orchard Supply Hardware (full and empty bags)
JS West (full and empty bags)
Twain Harte:
Twain Harte Lumber & Ace Hardware  (full and empty bags)