The "Atmospheric River" Brings Snow, Rain, Floods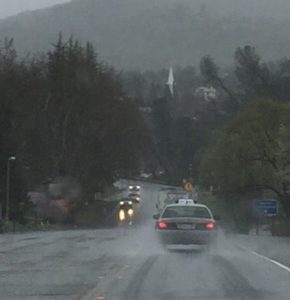 Heavy Rain in Sonora

View Photos
The current Winter Storm Warning issued for the Sierra Nevada for elevations above 7,000 feet, will expire at 4 PM this afteroon.
The National Weather Service has issued a Winter Storm Watch for the Sierra Nevada, from Friday evening through Saturday evening.
The current Flash Flood Watch issued for the Sierra Nevada has been extended through Monday afternoon.
A Flood Watch will be in effect for the Mother Lode and the San Joaquin Valley from Saturday afternoon through Monday afternoon.
The "Atmospheric River" currently over the area, will continue to bring periods of moderate to occasionally heavy rainfall. Additional rainfall amounts of one to four inches are possible in the lower Sierra Nevada through this afternoon.
Rain will taper off tonight with dry conditions through Friday.
The next storm Friday night into Saturday may have five to ten inches of new snow accumulations in the Sierra Nevada above 5,000 feet, with around two feet of snow at the highest eleveations.
Impacts due to the snow will include hazardous winter travel with reduced visibilities, chain controls and traffic delays. The heavy snow will make many roads impassable and may produce widespread power outages due to the weight of the snow on tree limbs and power lines. Strong winds will lead to blowing snow,reduced visibility and additional power outages.
The next "Atmospheric River" is expected to move in on Saturday with a prolonged period of heavy rainfall possible through Monday. Occasionally intense rainfall will push snow levels above 7,000 to 8,000 feet from late Saturday through Monday. This will likely result in rapid rises along small streams and rivers and the threat of flash flooding.
Rainfall totals from Saturday through Monday are forecast to be significantly high, with amounts of five to fifteen inches possible in the Sierra Nevada. These are amounts not seen since December 2005.
In the Central Valley, two to five inches of total rainfall is likely.
Some of the impacts will include the flooding of roads, highways, mall streams and rivers. Rock slides and mud and debris flows with possible road closures. Downed trees with the possibility of areal power outages. The threat of flash flooding is greatest in the vicinity of burn scars. Those areas may have debris flows from the prolonged and occasionally intense rain.
A combination of intense rain and saturated soils will lead to excessive runoff. Flooding of unregulated rivers, as well as flooding of creeks, streams, urban areas and farmland is likely. Most rivers will be at elevated Levels. Travel could be very difficult with some roads covered by water. Turn around, do not drown.
Due to the amount of rainfall expected, the forecast for the Merced river at Pohono Bridge in Yosemite National Park shows a significant river level rise.
On Sunday morning, the Merced River is expected to rise above flood stage and up to a significantly high level Sunday afternoon. This will likely cause flooding around Yosemite Park and locations downstream. Other smaller creeks and streams could see rapid rises and flooding.
Property owners should take steps to clear leaf debris from their property before the storm arrives.
A Winter Storm Warning means significant amounts of snow are expected. Strong winds are also possible. This will make travel very hazardous or impossible.
A Winter Storm Watch means there is a potential for significant snow, sleet, or ice accumulations that may impact travel.
A Flash Flood Watch means that conditions may develop that lead to flash flooding. Flash flooding is a very dangerous situation. You should be prepared to take action should Flash Flood Warnings be issued.
A Flood Watch means there is a potential for flooding based on current forecasts. You should be alert for possible flood warnings. Those living in areas prone to flooding should be prepared to take action should flooding develop.