Population In Mother Lode Continues To Drop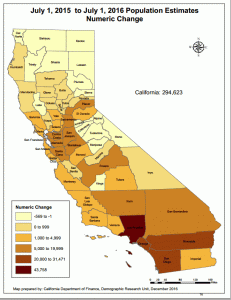 CA Population Chart

View Photos
Sonora, CA — Tuolumne, Calaveras, Amador and Mariposa counties were among 14 in the state that saw its population decline over the past year.
That's according to new statistics released by the California Department of Finance focused on the period stemming from July 1st of 2015 to July 1st of this year. Tuolumne County's population fell to 54,282, which is a drop of 243 residents. Calaveras County's population declined by 108 residents, down to 44,791. Mariposa County fell by 33 residents to 18,055 and Amador was down by 123 residents to 37,191.
The Mother Lode region has seen a gradual population decline over the past several years. In 2010, Tuolumne County had population of 55,350, Calaveras was 45,535, Mariposa was 18,245 and Amador was 38,069.
The statistics show that more residents are moving to urban areas as opposed to rural. As a whole, California added 295,000 people over the past year to bring the population up to 39.4 million. Counties that saw the most growth were Los Angeles (up 43,758), Riverside (up 31,471), San Diego (up 25,807) and Orange (up 20,153).