Brown Calls Out Trump Over Climate Change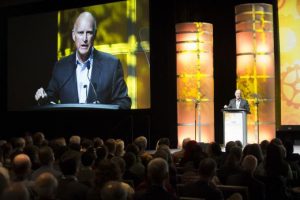 Governor Brown Speaks At Conference

View Photos
Speaking to a group of scientists yesterday at the American Geophysical Union conference in San Francisco, Governor Jerry Brown made it clear that he will put up a fight if President-Elect Donald Trump's administration attempts to rollback efforts to combat climate change.
Brown was Friday's KVML "Newsmaker of the Day".
The Governor touted recent state efforts and indicated that California will continue forward even if programs are in conflict with federal directives.
The Governor added, "A lot of people say, 'what the hell are you doing Brown, you're not a country.' Well, judged by measures of gross domestic product…we are the fifth or sixth largest economy in the world, and we have a lot of firepower."
Brown referred to the scientists in the room as the "truth-tellers" and encouraged them to mobilize their efforts and "fight back" in the coming years.
At one point during the nearly 20 minute speech he stated that President-Elect Trump's budget cuts could eliminate programs like earth-observing satellite programs. Brown jokingly referenced his nickname "Governor Moonbeam," and stated, "If Trump turns off the satellite, California will launch its own damn satellite."
Brown set the stage for what could be many contentious months ahead between state leaders and the federal government.
The "Newsmaker of the Day" is heard every weekday morning at 6:45, 7:45 and 8:45 on AM 1450 and FM 102.7 KVML.