Gas Prices Trend Down In California But Go Up Nationally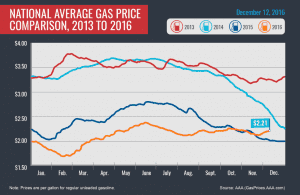 AAA Fuel Gauge Report

View Photos
Sonora, CA — California's average gas price dropped 13-cents over the past month, despite nationwide retail gas prices increasing steadily. Details were released in the monthly AAA fuel gauge report.
AAA of Northern California reports that regular unleaded is averaging around $2.66 per gallon. The same price as reported in August here. The price drop in California is being attributed to abundant crude surplus and diminishing demand. California still has the highest gas prices in the nation due to taxes placed on fuel and state rules calling for a more environmentally friendly blend than other states.
AAA reports the lowest average price in Northern California can be found in Marysville, where regular unleaded is $2.28 per gallon and the highest price is in San Francisco at $2.81 per gallon.
The myMotherLode.com gas price section shows that regular unleaded is selling in Sonora from $2.33 to $2.62.
The national average has increased for 14 consecutive days, following the news of an OPEC crude oil cut agreement. The national average is $2.21 per gallon is up $0.20 compared to the same date last year. AAA spokesperson Cynthia Harris says, "OPEC reached an agreement on November 30 to cut oil production by 1.2 million barrels a day beginning in January, 2017. The agreement caused oil prices to increase and pushed the national average price higher." Additionally the AAA report notes producers from outside the 14-country OPEC group reached their first deal since 2001 to limit oil output by 558,000 with Russia cutting 300,000 barrels per day and the remaining non-OPEC members cutting 258,000 barrels. The cuts are considered an effort to reduce global over supply to rebalance the market by reducing output.