State Grant To Columbia College Fosters Earning While Learning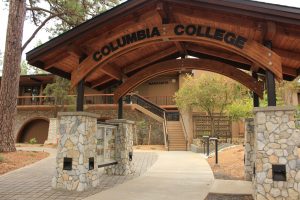 Columbia College

View Photos
Columbia, CA — The state has awarded Columbia College a second apprenticeship program grant this time to teach automotive skills and toddlers.
The two-year grant for $960,000 will fund the development of new Apprenticeship programs for Automotive Technology and Child Development training, beginning in January 2017. It will be similar to the Hospitality Apprenticeship Initiative, as reported here last year, which currently has students working at local hospitality hot spots getting hands on training.
The funding comes from the California Community College Chancellor's Office Workforce and Development Division. Its goal is to broaden the range of apprenticeship programs available to California workers. Columbia College President Dr. Angela Fairchild expressed her gratitude "We are honored that our small, rural college has once again submitted a successful proposal in a statewide grant competition and appreciate the recognition by the state Chancellor's Office of the demonstrated need for workforce training opportunities in the Motherlode region."
The grant will fund the development of the two pilot projects that will give up to 48 students the opportunity to "earn while they learn." Overseeing the programs is Dean of Career Technical Education and Economic Development Dr. Klaus Tenbergen who says that he was ecstatic when heard the news. He explains, "It means for the students great opportunities to work with our local employers to obtain the skills needed not only to become a certified apprentice but go above and beyond and complete a two year degree program. It also meets the need of the employers in Tuolumne County to find qualified people to fill vacant positions."
Apprentices will complete a minimum of 2,000 hours of employer-paid on-the-job training, while completing 288 instructional hours as college students. Early Childhood Services Director for the Amador-Tuolumne Community Action Agency Marcia Williams notes the scarcity of worker in child services, stating, "For the past several years, Calaveras and Tuolumne counties have been experiencing a severe shortage of qualified preschool and infant toddler teachers. This shortage is causing us to reduce the number of children that can be served through our programs, leaving some of our most vulnerable children without adequate preparation for school."
Dr. Tenbergen encourages businesses that may be interested in partnering with the college to come to upcoming planning meetings to be scheduled sometime in late January.  To sign up contact him at (209) 588-5142. Additionally, applications for the Hospitality apprenticeship program are still being accepted.  Tenbergen already has his eye on a possible third grant application in fire science, which would involve graduates from the Fire Academy continuing on in an apprenticeship program where they can then fulfill their on the job training and internships required by the state to get a job in the field. However, no grant applications have been submitted yet.