Update: Crash And Stuck Vehicle Closes Highway 108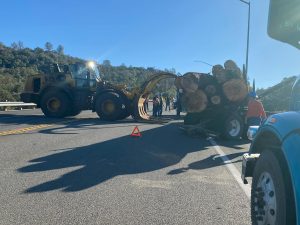 After head on crash on HWY 108 logging truck not involved experienced a load shift 9-30-22

View Photos
Update at 3:15 p.m.: The CHP has released new information regarding a head-on crash on Highway 108 in East Sonora that resulted in one person being flown from the scene and led to a logging truck's load shifting, but the semi was not involved in the collision. The wreck happened around 7:24 a.m. east of the Hess Avenue exit, as earlier reported here. The CHP reports that 87-year-old Michiko Kitchen of Sonora was driving a 2008 Ford Escape, eastbound on Highway 108, east of Hess Avenue, at about 55 miles per hour. At that same time, 53-year-old, Janice Leslie of Twain Harte was driving a 2002 Ford Expedition westbound at the same rate of speed. CHP spokesperson Officer Steve Machado detailed, "Kitchen allowed her vehicle to cross over the double yellow lines, directly in front of Leslie's vehicle, resulting in a head-on crash." The impact caused Leslie's SUV to go off the roadway and down the embankment. Kitchen's SUV came to rest on the highway. Kitchen sustained moderate injuries and was flown to Doctors Medical Center in Modesto. Leslie had minor injuries. Machado added that alcohol and/or drugs are not suspected in this crash.
The collision halted traffic on the highway, which became backed up. That caused a logging truck driver in the eastbound lane to attempt a U-turn. Machado noted that while turning, the logs shifted, disabling the truck and trailer and blocking both lanes of the highway. It took about an hour for a front loader to make it to the scene and readjust the logs for travel. The roadway was reopened in about two hours at around 9:38 a.m.
Update at 9:45am and below written by BJ Hansen: Highway 108 is back open in East Sonora following a couple of incidents that impacted traffic this morning. There was a head-on crash during the seven o'clock hour near the Standard Road/Peaceful Oak Drive turnoff. Then, a big rig truck became jackknifed near the Hess Avenue turnoff, later on, trying to turn around and avoid a traffic delay. Both of the incidents have now been cleaned up and traffic is again moving freely.
Update at 8:45am: Earlier there was a crash at the intersection of Highway 108 and Standard Road and cleanup continues. Meanwhile, a big rig truck that was trying to turn around in that area, to avoid a delay, has now gotten jackknifed On Highway 108, nearby. Because of the now multiple incidents, Highway 108 is completely closed between Hess Avenue and Standard Road/Peaceful Oak Drive. Mono Way is the alternate route.
Original story posted at 7:45am: Sonora, CA — Emergency responders are on the scene of a head-on crash that occurred on Highway 108 at the Peaceful Oak/Standard Road offramp.
There is a hard closure of the highway in that area as they help someone who was pinned inside a vehicle due to the crash. Travel with caution in the area and be prepared for a delay.  Mono Way is the alternate route.