ITSA Film Festival Announces Films And Nominations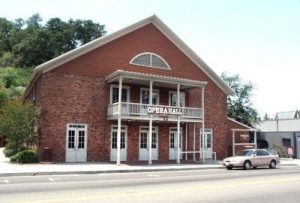 Sonora Opera Hall

View Photos
Sonora, CA — Next weekend, beginning on Veteran's Day, Tuolumne County will host film makers, editors and actors at the 7th annual ITSA Film Festival. Over 66 films from all over the globe are being screened during the 3-day festival.
Friday night features the Academy Award Nominated film "Generation on the Wind" and Producer, Writer, Director and Editor David Vassar will be at the screening. The film documents the construction of the Cutty Hunk windmill in Massachusetts during the 1978-79 energy crisis. It was Broadcast nationally on PBS in 1980 but the original film was cut and pieces were lost. This year it has been fully reconstructed and restored, for the first time in 30 years the entire film will be screened at the Sonora Opera Hall from 6 pm to 8 pm.
Other ITSA Guest Speakers this year include: actor, voice-over talent, and model Alexis Nichols; Los Angeles based writer, director, acting coach, and author Chad McCord and actor and art director Ciara Flynn. The judges for the 7th Annual ITSA Film Festival include; James Codeglia, David Codeglia and Denita Richards.
The full list of movies and events is in our event calendar here. Saturday night the film festival also becomes a part of 2nd Saturday Art Night.
The ITSA Film Festival has the backing of several local sponsors, the City of Sonora, Tuolumne County Visitors Bureau and the TCEDA. Events and movie screenings are paid for by sponsors and free to the public except for David Vassar's presentation of "Generation on the Wind" which is $15 in advance and $20 at the door.
Out of more than 66 films that will be shown the 26 standout Nominated Films in six categories during the festival are:
Drama
Omessa – Directed by Charlène Favier
Muscle – Directed by Heidi Miami Marshall. Produced by Frank Oz (Muppets/Star Wars)
Restart – Directed by Olga Osorio
The Dishwasher – Directed by Matt David Johnson
Four Day Weekend – Directed by Nicole Jones. Starring Ben Koldyke (How I Met Your Mother/Masters of Sex)
Animation
Pearl – Directed by Patrick Osborne (Feast) and Produced by David Eisenmann (Finding Nemo, Ratatouille, Toy Story 3 and more)
Peak Phosphorus – Directed by Michael Mehring
Parade de Satie – Directed by Koji Yamamura
Youth (19 years old and under)
4242 – Directed by Sara Eustaquio
The Control Room – Directed by Calvin Herbst
Attached at the Soul – Directed by William Leon
Ellie – Directed by Morgana McKenzie
Music Video
Bodies
Fallin' Free
I Need to Feel
Take My Heart Away
Reel Scary
Save – Directed by Iván Sáinz-Pardo
Vexed – Directed by Marc Cartwright
Nite Fix – Directed by Trevor Dillon
Soul Breaker – Directed by Judson Vaughan
Comedy
Gridlocked – Directed by Scott Brown and Zack Gold (starring Richard Reihle, Andrew Keegan, Jon Lindstrom)
Uncle Max – Directed by Albert Fry Jr.
(FYD) Follow Your Dreams – Directed by Chad McCord (starring John Larroquette)