Large Amount Of Marijuana Confiscated In Angels Camp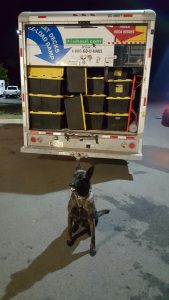 Angels Camp Drug Bust

View Photos
Angels Camp, CA — A big shipment of marijuana, potentially connected to a major bust in San Andreas we reported on last week, has been located in Angels Camp.
We earlier reported that 35 people were taken into custody Thursday, as two and a half tons of marijuana were confiscated, at a processing facility at the old county airport building at 833 Highway 49 in San Andreas.
There's now an update, as two days later, an Angels Camp police officer, while on regular patrol, initiated a conversation with a U-Haul truck driver fueling up at a gas station in the city limits of Angels Camp. The driver claimed to be transporting furniture to Southern California. A police canine sniffed the rear of the truck and detected contraband. The officer could also smell a strong odor of raw marijuana.
The officer searched the rear cargo of the truck and located 100 large plastic totes that were filled with raw marijuana. The PD reports the totes were a similar match to those that were confiscated at the bust at the airport days earlier.
The truck and the contents, as well as the suspect, who has not yet been identified, were turned over to the Calaveras County Sheriff's Office for further investigation. No further information is immediately available.