Two-And-A-Half-Ton Pot Bust In Calaveras County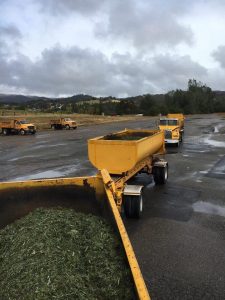 Tons of marijuana found in hangers

View Photos
San Andreas, CA — Calaveras County Sheriff's officials report a huge pot seizure was not on isolated property but right outside of San Andreas at the old county airport.
Deputies raided the hangers at 833 Highway 49 on Thursday and found they had been turned into a huge illegal industrial marijuana processing facility with nearly two and a half tons of pot. There was also an attached warehouse filled with drying shelves.  A total of 35 people were taken into custody some from the states, Honduras, El Salvador, and Mexico; some were from as far away as Bulgaria and Iceland. Sheriff's official report none were in the US legally. The man believed to be in charge of the facility was from Miami Florida.
Taking part in the bust were representatives from Calaveras County Environmental Health, Code Enforcement, the San Andreas Fire Department and the District Attorney's Office. Numerous fire, building and health and safety code violations were uncovered due to the hazardous working conditions and modifications made to the building. The most dangerous among them were doors that were bolted shut. Ultimately the building was deemed unsafe by environmental health officials.
Some of the charges facing those arrested include conspiracy to cultivate, transport and process marijuana and possession of marijuana for sale. Additionally, others had outstanding warrants. Sheriff's official revealed that additional charges may be forthcoming.