$150,000 Award To Seed More Soccer Fields At Future Standard Park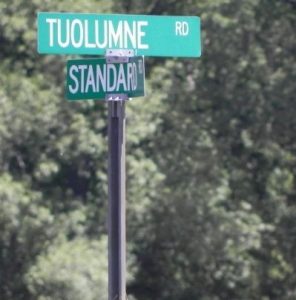 Tuolumne Road at Standard Road Signs

View Photos
Sonora, CA — While dual sets of plans are in the works for a community park on Standard Road, a local foundation has made proactive moves to help fund much-needed soccer fields there, well ahead of the land transfer that will ultimately allow it to happen.
Thursday, the Sonora Area Foundation announced that its board of directors agreed to provide $150,000 to the County of Tuolumne that will support its recent application to the California Youth Soccer and Recreation Development Program. The monies, which are contingent upon the county receiving funding to construct the fields through the state program, will come in two installments of $75,000.
Foundation officials say that the first allotment will be earmarked for construction of a proposed playground area on the new site, which is being funded from existing donor funds held by the Sonora Area Foundation.
After that will come a matching grant of up to $75,000 from the Irving J. Symons Foundation for Tuolumne County, a supportive organization of the Sonora Area Foundation. Those funds are being targeted to supporting construction of a concession/restroom area serving the new site.
Of the Symons grant, foundation director Gary Dambacher states, "The construction of new athletic fields would have been in Irving Symons's wheelhouse." He adds that the idea was something specifically discussed by Symons, the Sonora Area Foundation founder, prior to his 2004 passing.
As reported here, county officials, now working on the state grant, are also collaborating with another nonprofit, The Park Foundation, to shape the development of the future park.