Additional Arrest Warrants In Calaveras Human Trafficking Case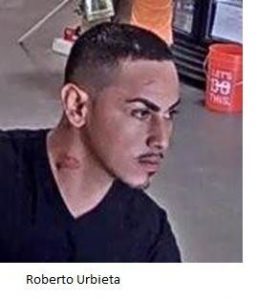 Roberto Estudillo Urbieta

View Photos
San Andreas, CA — Calaveras County Sheriff's officials report arrest warrants have been issued for two male suspects and the public's help is needed to catch them.
As first reported here, sheriff's officials told Clarke Broadcasting that more charges would be coming in regards to the horrific marijuana grow and human trafficking case. Two women were arrested in September for their involvement in kidnapping, trafficking, assaults and terrorizing of four Hispanic men after they were lured from the Modesto area and held captive for months at a remote grow in West Point.
The male suspects are Roberto Estudillo Urbieta, 30, and Armando Suarez Jr. both from Modesto. Sheriff's officials give these descriptions of the men: Urbieta has black hair, brown eyes with distinct eyebrows, 5'08', and weight 150 lbs. He has visible tattoos on his right hand and tattooed red lips on the right side of his neck. Suarez has black hair, brown eyes 5'5", and weight 165 lbs.
Investigators are asking the public to look closely at the pictures of both men in the upper left-hand image box. If anyone recognizes or knows the where about of either man please contact the Sheriff's Office at 209-754-6500 or the anonymous tip line at (209) 754-6030.
The warrants include a $25,000 bail for Suarez while Urbieta's is $100,000. One of the woman arrested in the case shares the Urbieta name but Sheriff's officials have not released whether they are related.