More Charges Coming From Calaveras Marijuana Grow Human Trafficking Case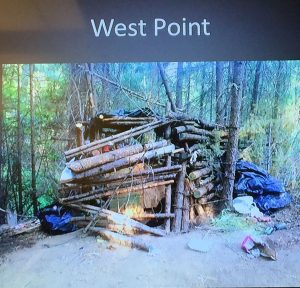 West Point Marijuana Grow In Calaveras County CA Tied To Human TRafficking Case, Evidence Photo

View Photos
San Andreas, CA — Enhanced charges and two more arrests are anticipated in connection with a shocking human trafficking case tied to a criminal marijuana grow in Calaveras County.
As Clarke Broadcasting reported Tuesday here, a special press conference was held that detailed the kidnapping, trafficking, assaults and terrorizing of four Hispanic men after they were lured from the Modesto area and held captive for months at a remote marijuana grow in West Point. Their escape triggered a raid of the site in early August during which evidence of their ordeal and the operation was gathered; over 23,000 plants, with an estimated value of at least $18 million were additionally eradicated.
Today, Calaveras Sheriff's spokesperson Capt. Jim Macedo shares, "The District Attorney's Office has advised that there are charges in addition to those that I read in the press conference that are going to be filed involving enhancements. I have had a subsequent conversation with the District's Attorney's Office where they have advised that they are also going to be filing charges against two males that are involved in this case." The captain reports that the two men in question, while not yet in custody, are actively being sought. He adds that, as the case involves many moving parts, agencies and jurisdictions, more details not yet available may be shortly forthcoming.
Two Hispanic women, identified as Guadalupe Sierra Arrellano, 43, and Medarda Urbieta Estudillo, 34, were respectively arrested in Modesto by the Yuba County Sheriff's Dept. and Immigration Customs Enforcement (ICE) last Wednesday and booked into the county jail. As the captain has indicated, they now face enhanced charges. Both were initially booked for criminal cultivation of marijuana and possession of it for sale, along with human trafficking through force, fraud or coercion; kidnapping; battery with serious bodily injury; and willful threat to commit a crime with the intent to terrorize. They remain in the jail without bond.
The two women, as stated in the Tuesday press conference, are determined to be in the US illegally, operating under several aliases. While no firm connection has been yet established to any drug cartels, a reported mention of one that came up during the investigation is being corroborated.