Sonora Not Interested In Consolidating Police Department With TCSO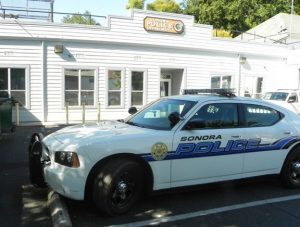 Sonora Police Department

View Photos
Sonora, CA — With the pending retirement of Sonora Police Chief Mark Stinson, the City of Sonora is not interested in consolidating its police department with the Tuolumne County Sheriff's Office.
Clarke Broadcasting received an e-mail from City Administrator Tim Miller yesterday that he indicated was in response to a guest newspaper editorial written by former Sheriff Dick Nutting. The former Sheriff argued that Chief Stinson's exit is a good time to take a serious look at consolidating the two law enforcement units. Miller says consolidation is not one of the options being considered by the city. Sonora Mayor Connie Williams sent a follow-up e-mail, adding that the Sonora City Council "values the local police department and the services it provides to the community," and is not looking into an outside services contract with the Sheriff's Office. It seems to put to rest the question of whether the PD and Sheriff's Office will merge anytime in the near future.
Chief Stinson verbally announced to the city council this past April his intention to retire at the end of this year. The council is currently discussing how to fill the role.