Supes' Special Session Will Discuss New CAO, General Plan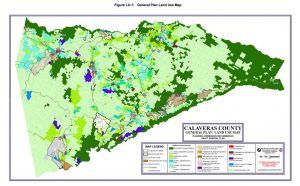 Calaveras County Draft Land Use Plan Map Diagram

View Photos
San Andreas, CA – A special meeting of the Calaveras supervisors Tuesday will tackle the topic of bringing on a replacement for retiring CAO Shirley Ryan as well as potentially move forward on the county's long-awaited general plan update.
An 8 a.m. closed session in the supervisors chambers (891 Mountain Ranch Road, San Andreas) is largely dedicated to discussing move-forward plans for filling the gap between Ryan's departure in late December and the seating of the new board of supervisors, as reported here. Beginning at 9, the board will hold a public work session dedicated to reviewing several months of work by the planning commission and staff on the general plan completed on Sept. 22.
According to the meeting documents, the commission is recommending that the board accept its submitted draft text and land use map diagram (see left image box for related image) for the purpose of preparing the general plan update's environmental impact report (EIR).
Elements of the update have been under concerted review by the planning commission since July of last year. The draft land use map comes after a good deal of community input and six public hearing dedicated to reviewing it. The planning department has posted the draft plan and numerous related documents on its website here.
Once the diagram is adopted, the next step will be to work with a contractor to prepare the EIR. Raney Planning and Management, chosen for the task, is expected to take about six months to complete that phase. It would then be followed by a public common period; a response to comments document with modifications; ultimately a final EIR would then be the subject of another round of hearings before adoption, perhaps at the end of 2017.