CAL Fire Determines Cause Of Marshes Fire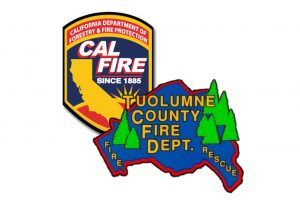 Cal Fire - Tuolumne County Fire Department Logo

View Photos
Fire officials have released the cause of the 1,000 acre Marshes Fire burning near Moccasin.
CAL Fire spokesperson Nancy Longmore reports that it was sparked by a vehicle parked in dry grass. The fire ignited during the noon hour on Monday approximately two miles up Marshes Flat Road, south of Highway 49. Longmore says, "The investigation revealed a person was driving a vehicle along Marshes Flat Road when they pulled over to take a break, parking their vehicle in the dry grass. The vehicle subsequently ignited the grass. The occupant moved the vehicle and attempted to extinguish the fire, however they were unsuccessful."
Longmore says the name of the driver involved has not been released, and it's unclear if any charges could come from the incident.
CAL Fire officials report that due to the dry vegetation you should only park your vehicle in an area cleared of vegetation. Parking or driving along dry grass can allow hot vehicle components, primarily the exhaust and catalytic convertor, to come in contact with dry vegetation.
Click here for the latest story detailing Marshes Fire suppression efforts.