Lakes Fire Causing Smoky Skies Over Yosemite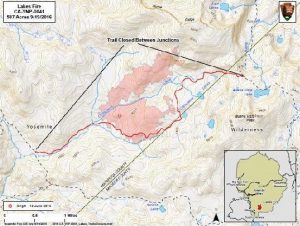 Lakes Fire Map

View Photos
Mariposa County, CA – Visitors to Yosemite National Park are seeing smoke in the skies as the Lakes Fire continues to burn.
As earlier reported here, the flames were ignited on June 12th by a lightning strike in the Chilnualna Lakes area above 8000 feet in elevation, between Turner Meadow and Buena Vista Peak. Over the summer months, fire crews have conducted several ground reconnaissance into the area to check on its growth.  The latest was on Saturday, September 17. Fire officials reported the fire is 587 acres in size down from an aerial reading of 755 reported on last week.  The decrease is a result of crews walking the fire line and getting a more accurate reading.
The most active flames are on the west; north and northeast edge of the fire's perimeter and have spread to the burn scar of the 1999 Chil Fire.  Smoke is also visible in communities adjacent to the park. Late last month, several trails were closed to the public along Chilnualna Creek and a section between Turner Meadow and Buena Vista Lake.