Tenant Arrested For Setting Several Fires At Columbia Motel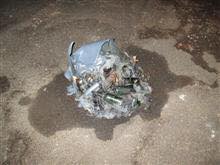 Burned plant

View Photos
Columbia, CA — A stakeout by detectives caught a woman red handed trying to set a fire at a Columbia Motel.
The Tuolumne County Sheriff's Department reports the arrest came after investigators monitored a room at Columbia Gem Motel occupied by 61-year-old Catherine Yvonne Park, who the motel owner suspected of setting some earlier fires. Sgt. Deborah Moss relays, "Park was monitored and it was witnessed that she attempted to set a plant on her deck on fire with a lighter. Park was arrested on suspicion of arson and booked into the county jail without incident."
Parks was questioned by investigators but did not admit or reveal why she allegedly started the fire.
The initial call regarding the fire came into the Sheriff's Office just before 1 a.m. on Monday for an attempted arson. Once on the scene, the motel owner told the deputies about several other small fires sparked on Sunday as well. That prompted detectives to set up a surveillance of Park's room.
Sgt. Moss notes that Park has already pleaded guilty to another arson at a Soulsbyville mobile home park in June of last year. Details on that arrest can be found here.
Park is behind bars on a $25,000 bail.