Brown Signs Legislation Regulating Wide Range Of Pollutants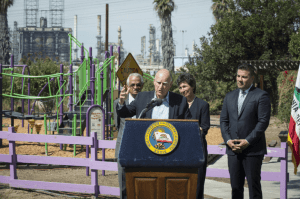 Governor Jerry Brown

View Photos
Sacramento, CA — California will place new regulations on emissions tied to things like landfills, cow waste and synthetic gases used in refrigeration and aerosol products.
Governor Jerry Brown signed SB 1383 yesterday afternoon which he says places the toughest restrictions on "super pollutants" like black carbon, fluorinated gases and methane. It requires a 50% reduction in black carbon and 40% reduction in methane and hydrofluorocarbon from 2013 levels by 2030.
The Governor argues that if the rest of the world would follow suit, it would cut the projected rate of global warming in half by 2050. The Governor says, "Cutting black carbon and other super pollutants is the critical next step in our program to combat climate change. This bill curbs these dangerous pollutants and thereby protects public health and slows climate change.
Details regarding how the plan will be implemented will be determined in the years ahead, and there is no concrete plan at this time. Many dairy industry advocates have come out against it arguing that the move will have negative impacts, with potentially some dairy farms moving out of state.  There is speculation in the industry that dairy farmers could be asked to install equipment to help covert organic matter from manure into energy.