Tuolumne County Supervisors To Weigh In About Land Exchange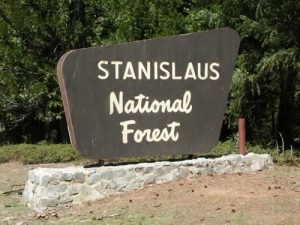 Stanislaus National Forest

View Photos
Sonora, CA — The Tuolumne County Supervisors will decide whether to send a letter critical of a plan to move 900 acres of Sierra Pacific Industries land into the Stanislaus National Forest.
The proposal, which we reported on in August, includes multiple parties, and is part of a bigger plan orchestrated to hand federal land over to benefit the Mammoth Mountain Ski Resort in Mono County. The US Forest Service would relinquish 30.6 acres for the ski resort, and add 1,317 acres within the Inyo, Stanislaus and Plumas National Forests. Of the property being handed over to the federal government, four parcels are SPI land in Tuolumne County surrounded by the Clavey River watershed.
The Supervisors tentatively drafted letter that will be up for discussion on Tuesday states that more balance is needed in the deal. It also points out that 75% of the land in Tuolumne County is managed by the federal government and there are already county concerns about the ability of the Forest Service to manage its current land.
In other business on Tuesday, the Board will hear an update on the city's efforts to widen the Mono Way and Greenley Road intersection. Sonora City Administrator Tim Miller is expected to be on hand and give an update. The meeting starts at 9am in downtown Sonora.