Wrecked Vehicle Piqued Suspicion And Led To Drug Bust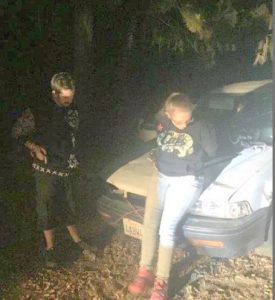 Suspects and car

View Photos
Columbia, CA — A damaged car was called in as abandoned to Tuolumne County Sheriff's Office and resulted in the arrest of two Sonora residents caught napping behind the wheel.
A report of a suspicious vehicle with "extreme damage" and possibly abandoned at Pioneer Park in Columbia just after 9 p.m. Wednesday sent a deputy to the scene. Once there, he discovered that in fact there were two occupants in the Honda Accord, sleeping.
The man and women were identified as Martin Hesseltine, 26, and Erika Olsen, 24. The deputy spied drug material in the car. Woke and questioned, the pair admitted to smoking heroin.  Both individuals and the vehicle were search netting heroin and drug paraphernalia.
The two were arrested and booked into the Tuolumne County Jail; Hasseltine for possession of a controlled substance and possession of drug paraphernalia; Olsen for possession of drug paraphernalia and a parole violation. A further records check found that Olsen was on State Parole for possession of stolen property.
Of note, this is the second arrest this week involving drugs and passed out individuals in their vehicle. Just this Tuesday, a couple was found napping in their truck with a stolen trailer attached and drugs gear in plain view. Click here for the full story.