Hectic Night For Law Enforcement With Alcohol A "Common Thread"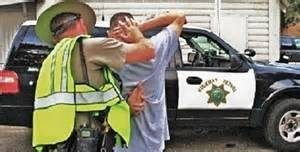 Cassady Grambergu arrest

View Photos
Tuolumne County, CA — The CHP reports officers tracked down a car thief and three others for drinking and driving, ironically, two who had actually got behind the wheel to help stranded friends.
The first arrest took place around midnight after an alert was issued regarding a stolen vehicle out of Copperopolis heading towards Jamestown. Tuolumne County Sheriff's deputies joined in the search as the driver was already known to them since he had just been arrested last Friday night. As reported here, deputies took 28-year-old Cassady Grambergu into custody near the Moccasin Powerhouse for trespassing and possession of narcotics.
The vehicle was found in the vicinity of Bell Mooney Road. Instead of giving up the search CHP officers decided to check the nearby Whistle Stop gas station on Highway 49 and Rawhide Road. The hunch paid off as Grambergu was found sitting down in front of the station. He was arrested on vehicle theft charges.
The DUI arrests began around 4 a.m., all along Parrotts Ferry Road. A CHP officer stopped to help a disable motorist when all of a sudden another vehicle pulled up. The driver Lindsay Barreras had come to the scene to pick up the stranded motorists. However, upon talking with her the officer smelled the odor of alcohol and determined to be under the influence and took her into custody.
In another twist of events, on the way to jail the officers spotted a motorcycle with the rider standing on the shoulder at the Sawmill Flat Road intersection in Sonora. The officer asked the driver, Domenick Meitzel, if he needed help to which he replied that he had crashed the bike after being run off the road. Further questioning of Meitzel led the officer to determine he was under the influence. Just then another vehicle arrived on the scene driven by Paydon Coats-Nelson. She had been called by Meitzel to pick him up. Coats-Nelson was also arrested for DUI after being questioned by the officer.  All three were booked into the Tuolumne County Jail. CHP spokesperson Officer Nick Norton states that while its great for friends to help friends, he offers this advice, "We would hope that those friends would understand that maybe I've had a drink and shouldn't drive…They would have thought about it and said I should call somebody who hasn't been drinking."