Update: Children Involved In Accident At Yosemite Junction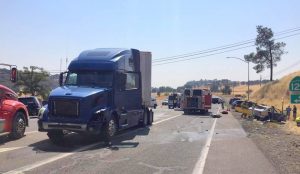 Yosemite Junction

View Photos
Update 4:40PM: The CHP reports Highway 108 has been reopened completely and traffic, while slow, is moving once again.
Update 4:15PM: Highway 108 remains open westbound but eastbound traffic is being diverted along HWY120 and HWY49. Highway 120 is one-way traffic controlled on the eastbound lane near the junction.Traffic remains heavy from La Grange Road to where the incident happened beyond the Yosemite Junction.
Update 3:47PM: Highway 108 is open westbound after being closed for approximately 30 minutes but HWY108 has been closed eastbound with detours in place through the Chinese Camp/Red Hills area at La Grange Road. The vehicles involved were a big rig and a silver Toyota Camry. CHP Officer Nick Norton reports the Camry was making a left turn from HWY120 onto HWY 108 and pulled out in front of the big rig that was traveling eastbound on HWY108. Norton says they are trying to sort out the rest of the details as to how an additional vehicle became involved and notes, "the scene is pretty large so it is going to take a while for everything to get cleaned up."
Update 3:25PM: Two children have been flown to U.C. Davis there is no word on the extent of their injuries.
Original Story 3:10pm: Chinese Camp, CA — Emergency crews are on the scene of three vehicle crash with one vehicle being a semi-truck near the Yosemite Junction. The CHP reports Highway 108 has been shut down. Officer Nick Norton reports a detour is in place using highway 49. Additionally, Highway 120 is one-way traffic controlled on the westbound lane near the junction.
There are reports of two children being involved in the accident. An air ambulance and a ground ambulance have been called to the scene there is no word on injuries or how many individual are involved in the crash.
Special thanks to our community news partner Catherine Driver for the photo. A news story regarding Caltrans' proposed plans to modify this intersection are here.