Suspect Sought In Stolen U-Haul Truck Chase Caught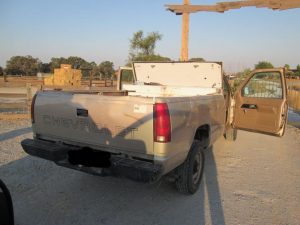 Wolfson's truck where stolen items and drugs were found

View Photos
Tuolumne County, CA – A wanted Stockton man has been arrested for a high-speed chase that happened on Monday night where the suspect got away on foot after crashing a pickup in Oakdale.
As reported here, Tuolumne County Sheriff's Officials have been looking for 41-year-old Nathan Wolfson ever since the chase began on Hwy 108 near Green Springs Road heading westbound and over the Stanislaus County into Oakdale where the pursuit was called off due to heavy traffic. Wolfson then crashed the stolen truck into a parked car on 6th Street. He jumped out of the pickup and ran from the scene.
Sheriff's detectives now report that they got a tip on Wolfson's whereabouts that helped in his arrest this morning. Deputies headed to the La Grange Road address that was indicated and captured Wolfson as he tried to flee the scene in a truck. A search of the pickup discovered methamphetamine, drug paraphernalia, pills, numerous citizenship resident cards, social security cards and personal identifying documents.
Wolfson was arrested and booked into the Tuolumne County Jail. He faces charges of driving on a suspended license, possession of a controlled substance, transportation of a controlled substance for sale, possession of a controlled substance without a prescription, and possession of drug paraphernalia.
Sheriff's officials indicate that currently there is a multi-agency investigation into Monday's incident and note that Wolfson could face additional charges.