New Details Released On Rawhide Fire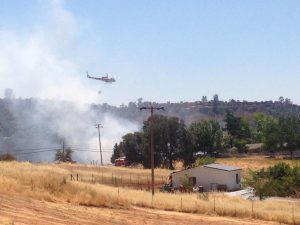 Fire on Highway 49 near Rawhide Road

View Photos
Tuttletown, CA – Cal Fire reports a final acreage on the Rawhide Fire near Tuttletown was 5.8 acres and lawn equipment sparked the blaze.
Cal Fire spokesperson Lindy Shoff states, "Investigators determined that the cause of the fire was a riding lawnmower. Our Battalion Chief Matthew Gilbert wants to remind everyone that riding lawnmowers are for lawns – not dry grass." She adds the case has been referred to the Tuolumne County District Attorney's Office. The person's name has not been yet been released.
As first reported here, the flames broke out around 12:15 on Saturday in the 9300 block of Highway 49 between Rawhide and Sheppard Ranch roads near Tuttletown. Initially, two structures were threatened by the blaze but aircraft were able to lay retardant and douse the flames. The forward rate of spread was stopped within 20 minutes of resources arriving on scene. The fire was completely contained in just less than two hours. Rawhide Road was also closed for about 20 minutes from Shell Road as crews battled the blaze.