Update: Fire Near Tuttletown Contained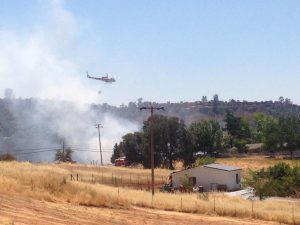 Fire on Highway 49 near Rawhide Road
Update at 2:05 p.m.: Cal Fire dispatch reports the brush fire near Tuttletown along Highway 49 near Rawhide Road has been contained at five acres.  No structures were damaged. The CHP has completely re-opened Rawhide Road.
Additional video of the fire shot by April Anderson can be viewed here.
Update at 1:10 p.m.: Cal Fire dispatch reports firefighters are getting a handle on the blaze's as the flame's forward rate of spread has been stopped. The fire size remains at three to  four acres. Columbia aircraft are returning to base. Several structures were initially threatened but there is no word if any were actually damaged. The CHP has opened up one lane of Rawhide Road, which had been closed at Shell Road.  Officers are directing one-way traffic control from Rimrock Road to Highway 49.
A special thanks to our community news partners Jerry Tannhauser and Denise Ecroyd for sending in the photos along with Sheila D Forney for the video.
Update at 12:45 p.m.: Cal Fire dispatch reports several structures are threatened in a vegetation fire along Highway 49 near Rawhide and Sheppard Ranch roads. The fire is three to four acres with a moderate rate of spread. The CHP is shutting down Rawhide Road between Shell Road and Highway 49 so motorists will want to find an alternative route.
Original post at 12:35 p.m.: Tuttletown, CA — Firefighters and Columbia air resources are heading to a vegetation fire near Tuttletown.
Cal Fire reports the flames broke out in some brush along the 9300 block of Highway 49 near Sheppard Ranch Road. There is no word on the size, the flame's rate of spread or if any structures are threatened. We will bring you more details as they come into the news center.