Boating Restrictions Implemented On Don Pedro Lake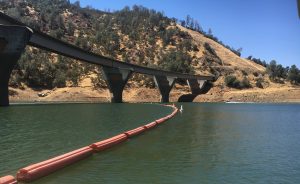 Lake Don Pedro construction booms

View Photos
Groveland, CA — Due to bridge construction, vessels will have to slow down and pass through a narrow water way in order to sail over all of Lake Don Pedro.
As previously reported, Caltrans has already begun working on upgrading and resurfacing the deck on the James E. Roberts Bridge. The construction has caused a portion of the lake beneath the bridge to be closed off by orange floating safety booms. (The booms can be viewed in the picture in the upper left-hand image box.) Boats can still sail under the bridge through an opening on the west side. However, Don Pedro Recreation Agency asks that boaters slow their speed and use caution in the waterway as the channel is small with a limited number of vessels able to pass at one time.
The $21 million dollar project is slated to be completed sometime in the fall of 2017. Additionally, the safety booms will remain in the water as long as the bridge work continues overhead, according to agency officials.