Yosemite Wants Public Feedback On Park Updates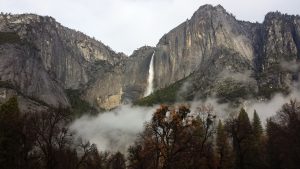 Upper Yosemite Fall

View Photos
Yosemite, CA — The park will be holding several workshops and webinars to focus on two complex issues and possible alternatives for the park's Wilderness Stewardship Plan. Those issues relate to visitor use, capacity and stock use. At the workshops, park officials will share preliminary concepts and want public feedback and suggestions. There will also be discussions surrounding the challenges faced by park managers attempts to provide a balance between public access and protecting Yosemite's wilderness.
As previously reported, the park began reaching out to the public last year and has already held several workshops and webinars regarding updating the plan. The hope is to solidify management strategies for natural resource management, ecosystem restoration, and trail maintenance.
Park officials provide these workshop and webinar
schedules:
Webinar #1 | Tuesday, August 9th | 12:00-1:00
Groveland, CA | GrovelandCommunity Hall | Wednesday, August 10th | 5:30-8:30
Lee Vining, CA | Lee Vining Community Center | Thursday, August 11th | 5:30-8:30
SanFrancisco, CA | Fort Mason, Bldg. C | Monday, August 15th | 5:30-8:30
Oakhurst, CA | Oakhurst Branch Library | Thursday, August 18th | 5:30-8:30
Webinar#2 | Monday, August 22nd | 6:00-7:00
The public can also make comments on the proposal by
clicking here or emailing yose_planning@nps.gov.