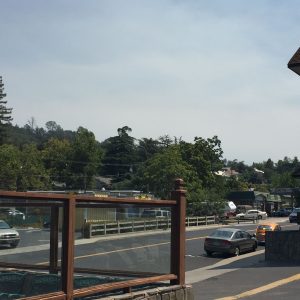 Haze of smoke over Sonora
Sonora, CA — Outside the smell and a thin veil of drift smoke continues to permeate the Mother Lode from fires to the south.
Near Big Sur, the Soberanes Fire in Monterey County is now 43,400 acres and 18 percent contained. There has been one fatality with 57 homes and eleven outbuildings destroyed. Numerous communities have either been evacuated or are on notices they could be forced to leave their homes. Additionally, several roadways that intersect with Highway 1 are closed.
Heading south in Fresno County, the Goose Fire south of Prather is 2,020 acres and 30 percent contained. Three homes and two outbuildings have been destroyed, while another 400 are threatened. Currently, several communities remain evacuated and Highway 168 along with other roadways are closed.  On Tuesday morning residents were being allowed into several areas west of the burn footprint as Cal Fire is implementing phase I of its repopulation plan for the area.
As reported this past Saturday, heavier smoke crept into the Mother Lode causing alarm but much of it was from blazes outside the area. However, Saturday evening near Highway 108, the Frymire Fire broke out in the Knights Ferry area, east of Oakdale and brought thick smoke to the area. Cal Fire called it 100 percent contained on Monday at 32 acres. Cal Fire reports, as of 1 p.m. Tuesday have been no other fires burning in the Mother Lode.