Jamestown Chase Suspect Captured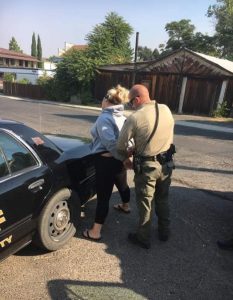 Jamestown Chase Arrest

View Photos
Jamestown, CA — A woman that led Tuolumne County Sheriff's deputies on multiple vehicle chases last month has been captured and booked into county jail.
We previously reported that 31-year-old Leioko Romero was involved in a "disturbance" on Green Street in Columbia on July 23 and also had an outstanding warrant for failure to appear in court on narcotics charges. Deputies chased her a couple of times on July 23 in the area of Yankee Hill Road but she was able to evade officials. At one point she drove her vehicle directly towards a deputy's patrol car.
This morning Romero was spotted as a passenger in a vehicle in the Jamestown area. Deputies pulled the car over on Main Street and took her into custody.
Romero is facing charges of kidnapping, assault with a deadly weapon, evading a peace officer with disregard for safety, reckless driving, and resisting arrest. The kidnapping charge stems from allegedly holding an acquaintance against her will in the car while she was being chased on July 23.