Tuolumne County Sheriff's Office Searching For Wanted Female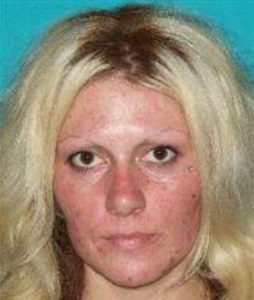 Leioko Romero

View Photos
Tuolumne County, CA – The Tuolumne County Sheriff's Office is seeking information about a woman that has been fleeing law enforcement.
The Sheriff's Office responded to a home on Green Street in Columbia Saturday morning due to a report of a "disturbance." When deputies arrived, 31-year-old Leioko Romero pulled away in a Silver Chrysler and ignored demands to yield. Romero had an outstanding felony warrant for failure to appear in court for charges related to selling narcotics and possessing drug paraphernalia. Deputies learned that she may be in possession of a firearm, and they followed the vehicle. The chase lasted for approximately 2 1/2 miles until they lost sight her. At one point Romero had driven straight into the path of a patrol car, forcing it off the road. While deputies were searching the area, a call came into dispatch from a concerned citizen on Yankee Hill Road that spotted Romero's vehicle. Deputies located and approached the car. There were two people inside, Romero and a female passenger. Deputies deployed a taser on Romero, but she was able to put the car in reverse and speed away. A chase then proceeded for approximately five miles on Mountain Boy Mine Road in Columbia, but Romero was able again to flee the deputies.
The Sheriff's Office later caught up with the car on Highway 49 near Tuttletown, but at this point,  Romero had already exited the vehicle, and the other passenger was the only person inside. The passenger said she encouraged Romero to pull over and was held against her will. Deputies received information that Romero may have left with an unknown male in a white Lincoln Town Car. She faces multiple charges.
Anyone with information on her whereabouts should call the Sheriff's Office at 533-5815.