Window Opens For Potential Kearney Recall Successors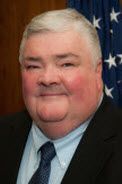 Calaveras County District 5 Supervisor Steve Kearney

View Photos
San Andreas, CA — After the Calaveras supervisors recently declined to order a recall election involving one of their own it fell this week to local elections officials.
Calaveras County Clerk-Recorder and Registrar Rebecca Turner has released the official proclamation, which notes both that sufficient signatures were obtained on a petition filed to recall District 5 Supervisor Steve Kearney and that the board failed to issue the order, requiring her office to take the action.
As previously reported here, Kearney drew fire from a contingent of Valley Springs constituents for supporting the operation of a proposed asphalt plant at Hogan Quarry, among other contested land planning-related issues.
So come Nov. 8, District 5 voters will have the opportunity to weigh in on whether Kearney should retain or be removed from his post by filling in the "no" or "yes" box under the initiative. Those who opt for the latter will ostensibly have a further opportunity to select their choice from a list of potential successors who filed and qualified. Under state recall election law Kearney is ineligible to run for his own office.
The filing period is now open and will close Aug. 25 at 5 p.m. Nomination papers and declarations of candidacy are available at the Elections Office in the county government center (891 Mountain Ranch Road) through the period on weekdays, excluding holidays,  from 8 a.m. until 4 p.m.
Those interested in running should note that either a filing fee of $563.06 (based off the position's annual salary of $56,305.50) or 529 valid signatures from District 5 registered voters is required to make the ballot. Furthermore, an official candidate statement of qualifications must be presented during the filing period, during which candidates will additionally have to pony up an estimated $350 to the Elections Office.