Public Welcome To Attend Dinner Honoring First-responders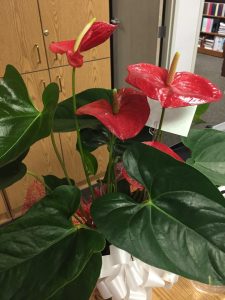 Thank You plant gifted to Sonora CHP after police shootings in the news

View Photos
Sonora, CA — A volunteer-fueled event to show first-responders some appreciation this weekend has some seats available for those interested in extending personal thanks.
Billed as the Come-In-Unity Dinner, the shindig is set for this Saturday from 4 to 9 p.m. in the grassy area of the Mother Lode Fairgrounds in Sonora. The idea to stage the effort, as reported here, was recently shared on social media and quickly spread, gaining traction and a game plan within about a day.
Chief organizer Ron Hamilton shares, "Things are going quite well. We have patterned out our delivery schedule and plugged in drivers to be making deliveries to those on-duty at all the fire departments, ambulance centers, sheriff's department offices, the jail and all those places operating emergency services in Tuolumne County. We are delivering over 300 dinners out to stations and responders, so, as you can imagine it has taken quite a number of volunteers to make that happen."
As for first responders and their immediate family members who are invited to attend the sit-down dinner as guests of honor, Hamilton says, "We have several hundred [first responders] who have RSVP'd to be onsite. So we are very excited at how our numbers are looking…and at the amount of volunteers who have signed up to put this event on."
Originally, volunteers did not know logistically how much room would be available to invite members of the general public, due to the number of first responders in the county. But as some have been called away to fight some of the big fires throughout the state, opportunity opened up to offer some limited ticket sales.
So, Hamilton shares, through Friday, on a first-come-first-served basis, these will be available for $10 each from 9 a.m. until 6 p.m. at the Pac N Copy at The Junction shopping center. The caveat, he says, "Once we run out, we are out of tickets." Due to security and logistics impacts — and because two other events are going on Saturday at the fairgrounds, Hamilton says tickets are only available through pre-sale.
Admission will be through the upper back gate, near the livestock area, which is where the event is being staged. Sonora High School Basketball players will be directing traffic as the gates open to the public at 4.
Each ticket includes a full tri-tip dinner with dessert and live entertainment from at least one local band, Burn Permit, made up of first responders, who will play from 4 to 6:30 p.m. Hamilton adds that efforts are underway to secure a band to perform from 6:30 to 10 p.m.
If there are any responders who for some reason have not yet gotten the information, Hamilton says to please give him a call at 588-3848.