Volunteers Plan Tri-tip 'Thanks Giving' For First Responders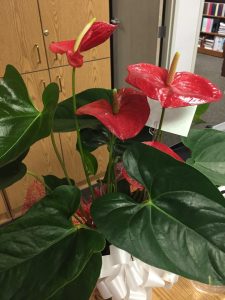 Thank You plant gifted to Sonora CHP after police shootings in the news

View Photos
Sonora, CA — The seed of an idea to show appreciation for local first responders has germinated into a full-blown event shortly coming to the Mother Lode Fairgrounds.
Tuolumne resident Ron Hamilton, whose front yard ad hoc "Rim Fire Cafe," back in 2013, dished up nightly dinners to first responders, recounts that the notion of sharing some local solidarity and gratitude came to him last Sunday. "I was just watching the news events of what was going on in the country, with officers being shot and then just posted a short little Facebook post saying, 'hey, if I took my big catering barbecue to the fairgrounds and cooked up some dinners, who could help me serve officers who were on duty'?"
Hamilton says he originally thought of setting up a drive-through, where first responders might pick up a meal and a hearty "thank you" before heading back to work. "Within 45 minutes [of the post], we were doing a full-fledged sit-down dinner and delivery service for people who were on duty, who can come to the fairgrounds…those who are off duty…and we are feeding their immediate families," he gleefully recounts.
Response Creates 'Come-In-Unity Dinner' 
Less than 24 hours later, more than 30 people convened for a meeting, according to Hamilton, where details were hashed out. "We had so many people there, taking on committees and chairing them…taking a lot of pressure off of myself and my wife, and they have been phenomenal," he remarks.
Since then word about the Come-In-Unity Dinner, slated to be under the stars Saturday, July 30 from 5 to 9 p.m. in the Mother Lode Fairgrounds' grassy livestock area, has continued to spread through social media, which has been bringing in donations and other assistance offers. He estimates about a 100 volunteers are currently involved.
The latest news, Hamilton shares, "We estimate that we will feed about 1,500 people that night." Volunteers are still reaching out with information to firehouses, ambulance hubs, police and sheriff's stations and the prison to make sure all first responders know about the event and to gauge attendance.
Hallmark Of A Heartful 'Small Town USA'
The feedback from the first responder community, Hamilton humbly confides, has been enthusiastic and grateful. He notes, "But we are doing this because we appreciate THEM. I think with what is going on in Big City, USA, it is important for Small Town, USA to take a step back and say, 'this is family…friends — and we need to show them how much we support them and putting their lives on the line every day for our safety.'"
Attendees will be treated to a sit-down tri-tip dinner with cowboy beans, rolls, salad and dessert, according to Hamilton, along with live entertainment by Burn Permit, a local band made up of first responders, all against a backdrop of red-white-and-blue decorations. Those who cannot make the dinner because they are on duty will be catered to via volunteer drivers. "We will be bringing deliveries to all the departments…Strawberry, Pinecrest, Groveland, Blanchard…every entity in Tuolumne County that we can get in contact with, to see to it that they are fed," he states.
Hamilton enthuses, "We appreciate all the emails, contacts and people volunteering. We could still use more volunteers — if you can't, shake a [first responder's] hand on the street and tell them 'thank you' — and remember what they do to keep us safe." He adds that first responders who have not gotten the information  — and anyone who would like to volunteer as driver, cook, or "cleaner-upper" to give him a call at 588-3848. Details are also available at the Pac-N-Copy in The Junction Center, where donations are also being accepted.