Yosemite Sending In Crews To Monitor Lakes Fire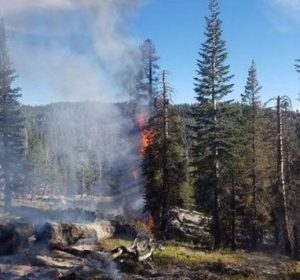 Lakes Fire

View Photos
Yosemite, CA — The Lakes Fire was ignited by lightning near the Chilnualna Lakes area, between Turner Meadow and Buena Vista Peak earlier this month and has grown in size.
As previously reported, Yosemite National Park fire officials have been monitoring the blaze, which is burning in Mariposa County near the Madera County border at around 8000 feet in elevation, for more than two weeks.  When the fire was first spotted, crews headed to the scene on July 7, they found a 3.2–acre fire.  Last week another look showed the blaze had grown to 15.3-acres with fire officials estimating the growth potential to be high.
On Tuesday, crews once again hiked back to check on the fire and will stay for the rest of the week to track the flames along the perimeter and take weather observations.  The flames have spread mostly on the northeast and southwest perimeters of the fire, according to fire officials.  There is no update on the fire's size but there is no immediate threat to the area or the hiking trail.