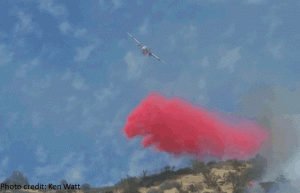 Baker Fire in Calaveras County

View Photos
Copperopolis, CA — Cal Fire reports the Baker Fire flames have been fully contained.
Cal Fire reports that the burned acres held steady at 57 with 100 percent containment reached Friday night.  As first reported here, the flames broke out around 3:30 p.m. Thursday in the 450 block of Baker Street off O'Byrnes Ferry Road and south of Highway 4.  The fire spread quickly as it headed towards Copper Mountain and grew to 30 acres in size in about ten minutes.  The CHP shut down O'Byrnes Ferry Road for several hours to help crews and equipment access the fire.  At the height of the blaze, resources on scene included both ground and air with 19 engines assigned, one dozer, seven hand crews, air attack, two tankers, two helicopters and four water tenders.
Cal Fire determined that a person using an excavator sparked the fire.  An individual was cited for allowing a fire to burn onto another's property.  No additional details were released but spokesperson Lindy Shoff confirmed to Clarke Broadcasting that it was not connected to a marijuana grow as four fires in the past were linked to pot cultivation.