Tuolumne County Juvenile Hall Nears Completion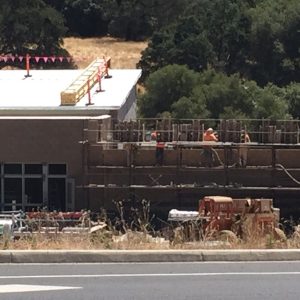 Tuolumne County Juvenile Detention Center Update
Sonora, CA – The Tuolumne County Juvenile Detention Center building looks nearly complete driving by on Highway 108 in Sonora, which can be seen in the pictures and video in the upper left-hand image box.
Deputy County Administrator Maureen Frank reported happily to Clarke Broadcasting "It's amazing. It's nice…It's roughly about 90 % done we are looking at a completion date of late September to early October, but open in January of next year."
The three month delay is due to a mandatory "shakedown" required by the state, according to Frank, which includes staff learning the building, its security systems and practicing possible emergency situations. Before that, however, all of the finish work inside and out still needs to be done. "The retaining walls need to go in at the back of the facility, the fencing and the landscaping. We'll close up the back of the building once all the glasswork done in the next two weeks," explains Frank. She adds, "Inside needs all of the fixed furnishings, all the needed equipment, the security locks/system, telecommunications and computers."
As previously reported, the $16-million dollar facility is being paid for by a state grant but is not without controversy, as some in the community have questioned the cost and need. Frank acknowledges those concerns and flatly denies claims that it is just going to be another prison. She insists that is not the case. "This really is going to be an asset to the community in regards to being able to work with our youth here in the county and make a difference in these young people's lives. It will hopefully correct some behaviors that they have and work with their families and keep them on the same school schedule they have now."
The county is currently in the process of hiring the staff, which will consist of 14 to 15 full-time positions.