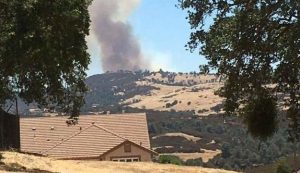 Pacheco Fire in Calaveras County, CAL Fire Photo

View Photos
Jenny Lind, CA – Firefighters can see the light at the end of the tunnel as the Pacheco Fire is close to full containment.
Cal Fire dispatch reports that the blaze is 98 percent contained and could reach 100 percent by Saturday evening or early Sunday. The flames charred 341 acres of grass along Lanford/Pacheco Road. The resources that remain on scene include just two engines. At the height of the fire, 25 engines were on it as well as four dozers, eight hand crews, three water tenders, air attack, two tankers and helicopters.
The fire broke out around 1:30 p.m. Tuesday and a couple hours later the Stagecoach Fire ignited in the Copperopolis area. The latter was called contained by Cal Fire Thursday morning after scorching 35 acres.  Fire investigators are actively pursuing a cause for both blazes.
As first reported by Clarke Broadcasting in an exclusive interview with Calaveras County Sheriff Rick DiBasilio Thursday and then confirmed by Cal Fire on Friday, marijuana cultivations and electrical problems were a common thread involved in four other fires racking up an estimate $1.5 million in suppression costs. Details on those fires can be read here.