Update: Pacheco Fire Acreage Drops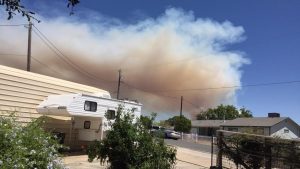 Pacheco Fire

View Photos
Update at 8:40 a.m.: Cal Fire spokesperson Lindy Shoff reports that the acreage has decreased from 350 to 341. The containment remains at 20 percent. Shoff reports the cause of the blaze is still being determined by fire investigators.
Original post at 6 a.m.: Jenny Lind, CA — Cal Fire reports firefighters made progress on the Pacheco Fire overnight in Calaveras County.
The blaze is burning in the Jenny Lind area. It is holding at 350 acres and is 20 percent contained. The flames broke out around 1:15 p.m. Tuesday in oak woodland and grass between Lanford/Pacheco Road and Milton Road Tuesday. Cal Fire spokesperson Lindy Shoff adds that the flames are burning in a very remote area and no structures are threatened.
There is no word on what sparked the blaze.
A special thanks to our community news partner Kathy Danielli for sending in the photo.