Update: Pacheco Fire In Calaveras At 350 Acres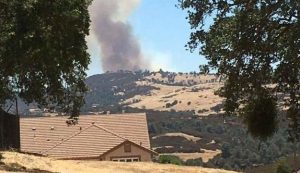 Pacheco Fire in Calaveras County, CAL Fire Photo

View Photos
Update at 5pm: CAL Fire officials say the Pacheco Fire is now 350 acres. No homes or structures are considered in danger. Firefighters will remain on scene through the night and into Wednesday.
Update at 2:50 p.m.: CAL Fire reports that the Pacheco Fire has grown to 230 acres with no containment. Currently 25 engines are on it as well as four dozers, eight hand crews, three water tenders and numerous air resources, according to CAL Fire dispatch. It is described as being in a remote area where no structures are threatened.
Update at 2:16 p.m.: Among the resources currently on-scene assisting with the 120-acre Pacheco fire south of Valley Springs in the Jenny Lind area, according to CAL Fire dispatch, are: 11 engines; two dozers; two fire crews; Air Attack and two air tankers from Columbia airbase; two helicopters and two water tenders.
To view pictures of the blaze, click in the left image box.
Update at 2:08 p.m.: CAL Fire reports the Pacheco Fire has spread to 120 acres.
Update: 1:54 p.m.: CAL Fire dispatch is now describing the Pacheco Fire in Valley Springs at 100 acres with some spotting and flames in oak woodland as well as grass. There is no containment. The location is being given as between the 13000 block of Lanford Pacheco Road and the 12000 block of Milton Road. No structures are currently threatened.
Update at 1:46 p.m.: A brush fire that ignited at about 1:12 p.m. along Landford Pacheco Road off Hunt road is now being called the Pacheco Fire. A size estimate and more details are shortly forthcoming.
Original Post at 1:30 p.m.: Valley Springs, CA — Firefighters and Columbia airbase resources are on the scene of a vegetation fire reported near the Salt Spring Valley Reservoir in Calaveras County.
Cal Fire reports the flames are along Lanford Pacheco Road off Hunt Road between Milton and Hogan Dam roads. There is no word on the size of the fire, the rate of spread or whether any structures are threatened. We will update you when more details become available.
Special thanks to our news partners for sending in photos: Aracelli Keates, CAL Fire; Amy Gladen; Charity Maness