As SRMC Reaches Goal, Director Bids Farewell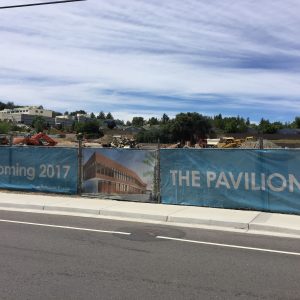 New Cancer Center Site

View Photos
Sonora, CA – Sonora Regional Medical Center reports it has surpassed its $3 million capital campaign target for its new Cancer Center, which began in August of 2014.
Medical Center officials shared that it was a cash gift from the George White estate that put the campaign over the top. It is a goal that hospital spokesperson and campaign foundation executive director Gail Witzlsteiner vowed to reach before her last day on the job, which ironically came Thursday on the same day the Medical Center revealed the milestone had been met.
As previously reported, Witzlsteiner's retirement was announced in May. When Clarke Broadcasting caught up with the director, following her retirement party, she called the experience very emotional — especially after 21 years. "As usual filled with gratitude, our community has just been so generous. I would not have retired until the campaign was complete. It is too important to finish what we started."
Construction is well underway on the property at the intersection of Greenley Road and Mono Way where the former Andy's Hardware once stood. Noting that it is a fantastic way to end her medical career, Witzlsteiner refused to take any credit, "I just was the choreographer behind the scenes. It's the volunteers that make it all happen. It's the generosity of the donors and the community that really enable us to be successful."
Additionally, estate planning gifts will continue to fund the center for years to come with more than $600,000 in donor pledges and ,as earlier reported, a $3.3 million George White estate gift. The facility has been named the "Diana J. White Cancer Institute."
SRMC acknowledged other donors in the provided list below:
Sonora Area Foundation ($500,000)
H. Randolph and Betty Holder
The George White estate
The Martin Family Charitable Fund
The Tuolumne Me-Wuk Tribe/Black Oak Casino Resort
Sierra Emergency Medical Group
Donations are still being accepted by calling the foundation office at 536-5029. Those giving $5,000 or more will get permanent recognition, as their names will be etched in a glass waterfall that will be in the center's lobby, according to Witzlsteiner.