Calaveras Cannabis Cultivation Public Forum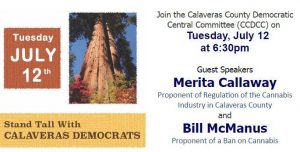 CCDCC Forum Flyer

View Photos
Murphys, CA – The cannabis cultivation square off is being billed as an informational debate to discuss two proposed measures, even though one has not made it on the November ballot.
As previously reported, voters will cast ballots on a measure involving taxing and regulating cannabis cultivation. The other measure, which will not appear on the ballot, called for an outright ban on all commercial cultivation.  The Calaveras County Democratic Central Committee (CCDCC) is hosting the debate and anticipates a high turnout. For that reason, the group has moved from its current meeting venue at a local pizza eatery to the larger Murphys Suites Hotel located at 134 East Highway 4 in Murphys.
Former Calaveras County Supervisor Merita Callaway will argue in support of cannabis cultivation taxation and regulations, while Bill McManus, the leader of the initiative to prohibit all commercial grows will assert his position. Additionally,   Bob Bowman the founder of the Sacramento Chapter of  NORML will speak out in favor of state Proposition 64 to legalize marijuana in California. According to CCDCC Chairman Tom Pratt, a coin will be flipped and then each person will be given ten to fifteen minutes to speak. He adds, "I want to make it fair. I definitely don't want anything to be contentious. I just want facts and information for our community, so they can make an informed decision."
The forum is scheduled from 6:30 p.m. to 8 p.m. on Tuesday, July 12, but Pratt acknowledges that it may go longer as there will be a question and answer period directly after the debate.