Recall Initiative Joins Cannabis At Supes' Table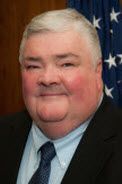 Calaveras County District 5 Supervisor Steve Kearney

View Photos
San Andreas, CA — As the November ballot continues to bulk up with statewide initiatives, Calaveras voters are all but guaranteed to see local ones involving cannabis and a recall vote.
Thursday the Calaveras County Elections Office confirmed that, along with a recently certified signature initiative regulating cannabis cultivation, it has cleared another signature proposal that will also head to the Board of Supervisors for action at their July 12 meeting.
As Elections Official and Clerk-Recorder Rebecca Turner explains, "We also had the initiative submitted to recall District 5 Supervisor Steve Kearney…submitted on June 27. As of today, we certified the sufficiency of that petition as well." She says that, under state election law timelines for such measures the recall measure, as previously reported here, is now bound to wind up on the fall ballot.
So, at that time, registered voters in Calaveras County's District 5, which includes Valley Springs, Milton, Jenny Lind and Rancho Calaveras, will have the option to vote "yes" or "no" to a recall of Kearney. Those checking "yes" to the question will then be asked who they think should succeed him.
Turner indicates that the filing period for those seeking to make a run for the position opens July 18. She specifies that, in order make the ballot, potential candidates must be a registered voter as well as a resident of District 5 — and complete the required paperwork from her offices, which includes submitting supportive signatures from 20 voters living in that district.