Mother Lode Supports New High School Cameras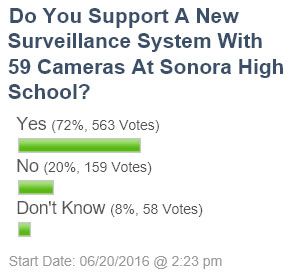 informal poll question school cameras

View Photos
An informal myMotherLode.com poll asked "Do You Support A New Surveillance System With 59 Cameras At Sonora High School?" The results were 72 percent Yes and 20 percent No. There were 780 votes during the four day poll. The news story "Sonora Trustees Consider Security Camera Contract Award" was posted here before the poll ran. The story detailed the history of incidents that lead the school to seek more surveillance of the campus. The update, posted here two days later, noted the plan was approved and the school will pay $147,942 to Surveillance Systems Integration, Inc. (SSI).
District Superintendent Pat Chabot gave Clarke Broadcasting details about the new system including that there will be 59 cameras and the ability to record "for two weeks, at least." Superintendent Chabot noted while SSI is a Rocklin-based company they are subcontracting with local electrician, John Diehl, who has worked with Sonora High School before.
Upgrading the school's network to increase the bandwidth and speed for the high definition Internet Protocol camera units was sited as the reason for part of the delay in starting the project. Chabot said instillation may begin as soon as July and take two to three months to complete.