Update: Cal Fire ID's Cause Of Tulloch Fire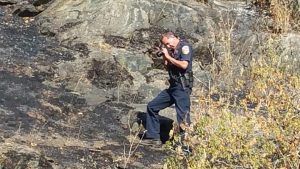 Tulloch Fire

View Photos
Update at 4:15 p.m.: Cal Fire Chief Josh White, in an email received by Clarke Broadcasting, confirmed that the Tulloch Fire was ignited by fireworks, set off the back of a boat, just upriver from the O'Byrne's Ferry bridge.  Cal Fire spokesperson Lindy Shoff could not confirm if that person would face any criminal charges.
Update at 3:30 p.m.: CAL Fire spokesperson Lindy Shoff reports that the containment of the Tulloch Fire has grown from 60 to 80 percent with the acreage at 82. Five engines and three crews remain on the scene. The cause of the fire is still under investigation.
Update at 1pm: CAL Fire spokesperson Lindy Shoff reports that six engines and three fire crews remain assigned to the Tulloch Fire this afternoon. The latest mapping puts the size estimate at 82 acres and the containment remains 60%. No air resources are assigned to the incident this afternoon as the forward rate of spread has been stopped. What ignited the fire remains unknown.
Original Story Posted at 7:45am: Tuolumne County, CA — Firefighters made strong progress overnight working to extinguish the Tulloch Fire.
It ignited yesterday afternoon during the three o'clock hour in an isolated river canyon situated between Lake Tulloch and New Melones Reservoir in Tuolumne County. CAL Fire's Lynne Tomalchoff says, "The firefighters were able to gain 60-percent containment on this fire. It is still at 85 acres and it is not expected to grow. They will be out again all day working on it."
At one point yesterday fire officials were estimating that the blaze had burned over 100 acres, but better mapping put the size at 85 acres. All of the aircraft has been released from the incident. There are still six engines and three crews assigned to the fire. The cause of the blaze remains under investigation. No homes or structures are considered in danger.
A special thanks to community news partners Justin Denny, Michel Egger, Richard C. Treadway, Amy Gladen, Jim Devoll, Tamara Hansen and Mark Truppner for sending in photos of the fire. Pictures can be e-mailed to news@clarkebroadcasting.com.
To view the progress of the fire from yesterday, click here.