Another Plane Crash At PML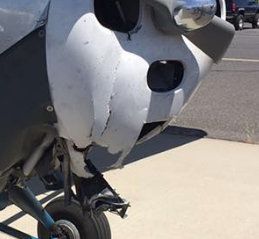 PML Airport plane crash

View Photos
Pine Mountain Lake, CA — Tuolumne County Sheriff's Deputies are on the scene of a crash landing that left a woman pilot injured.
The crash happened just before 1:30 p.m. Friday at the Pine Mountain Lake Airport in Groveland. Sgt. Andrea Benson states the 1946 Champion Aeronca 7 AC fixed wing single engine was attempting to land when the aircraft swerved off the runway. The plane then smashed into a wall at the fuel depot.  Luckily, there was no damage or rupture of the fuel tanks, according to Sgt. Benson.
The pilot, 61-year-old Charleen Beam from Groveland, suffered an ankle injury and was taken by ambulance to an area hospital for evaluation.  Sgt. Benson notes that Beam told deputies that "strong cross winds caused the aircraft to veer off the runway."
The Federal Aviation Administration and the National Transportation Safety Board have been notified of the downed plane and will be investigating the accident.
This is the second plane crash at the airport in a month, as previously reported on May 10 a 1976 fixed wing single engine Beechcraft crashed just after takeoff. The pilot and passenger were not injured in that crash but one did have a cut to his hand.