All Passes Open Ahead Of Memorial Day Weekend Holiday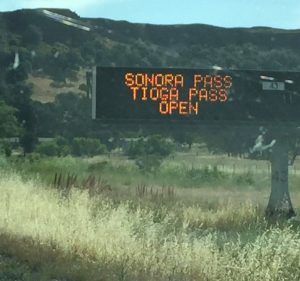 Sonora and Tioga Passes Open

View Photos
Update: 11:40 a.m.: Caltrans spokesperson Skip Allum reports that all the Mother Lode mountain passes are now open in time for Memorial Day Weekend travel.
Highway 108 Sonora Pass opened Thursday morning at 11:20, according to Allum, who adds that Yosemite National Park officials confirmed with Caltrans that Highway 120 Tioga Pass opened at 11. As reported below, Highway 4 Ebbetts Pass gates swung open about two hours earlier. Advising all motorists to remain alert and drive responsibly on the Mother Lode highways, Allum adds that Caltrans also sends its wishes for all to enjoy a safe holiday weekend.
Original Post 10:39 a.m.: Alpine County, CA — Just ahead of what is for many, a very highly anticipated three-day holiday weekend, Caltrans officials are confirming that Highway 4 Ebbetts Pass is clear.
According to Caltrans District 10 spokesperson Skip Allum, the gates re-opened Thursday morning in the nine o'clock hour. As previously reported here, Ebbetts Pass first became accessible for the season Friday, May 13. However, a couple of brief storms since have brought temporary closures.
Reports are abuzz that Highway 108 Sonora Pass may also open this afternoon. We will keep you posted. No word yet on Highway 120 Tioga Pass.